Older Posts
View Topic : CSS-Me-Do - SoCoder2
I think (*!?) I got most of the Showcase/Article/Blogs/Snippets/etc sections up and running, today.
Had to make a few tweaks to the way things work, and have also been thinking ahead.

I'm currently considering scrapping both the Notepad and PM sections, and replacing them with a single "Notes" section. Notes would initially be private to just you, and then you'd add other folk to the note like you can currently add "Groupies" in the PM system.
.. Not sure if that'll work, but I feel like combining the two kinda makes sense.

Could do with a better name than "Notes", but that's the best I came up with!
View Topic : CSS-Me-Do - SoCoder2
Got a fair bit of work done on the "Thing Sections" view.
Although the starting page doesn't work, or pagination, the basics are in place to expand it and finish off tomorrow.
I also got the time setting JavaScript up and running, along with a couple of other little bits and pieces.

Lots more to do!!!
View Topic : Manchester Arena Explosion
As much as religion sucks people in to things like this, it's not religion that makes them do it. It's being a fucking dick that makes them do it. Don't ever confuse being a religious person with being a complete and total fuckmunky.
View Topic : Buy Zelda
Another couple of hours, (Total : over 145 hours!!!) spent wandering around the Lurelin Village beach area. Such a huge beach. Lovely to walk around, and great for getting Bananas!

Quick Recipe - Banana Milkshake! Four bananas and some milk. Job done!

Thought
Considering he's carrying hundreds of ingredients, several changes of clothes including various sets of armor, as well as a giant paraglider and all his weapons, shields, bows and arrows.. .. I often wonder quite where he manages to find all the crockery when cooking.
View Topic : CSS-Me-Do - SoCoder2
The majority of the Profile Editing is now up and running on Socoder2. (There's a new "Edit Profile" link on the left hand sidebar.)

All but Smilies and Time settings should work as expected. (Let me know if otherwise!)

The new "Infoburst" section is the replacement for the old "GardenBar", and allows you to literally shove anything you want into the two halves of each line.
That way, you can add pretty much whatever you'd like, as long as it doesn't have a bloody & ampersand in it!

Profile views are also much nicer.. eg My Profile!
View Topic : Family
Yeah, hospitals can be a worrying place, and aren't exactly magical hotels of health. You can easily end up with much worse things than you went in there for.

I can definitely understand wanting to get out ASAP.

As long as she's OK, that's the main thing.



*sends well wishes*
View Topic : CSS-Me-Do - SoCoder2
Gave up with code, for the day.
Got out the camera, and tried to get a nice image of the BlitzCoder logo that I could grab nice and cleanly. But really wasn't coming out well. Horribly gnatty and messy.

So, instead, I downloaded the font, opened up PaintShop Pro and reconstructed the logo from scratch.

> Reveal 🔎

That'll come in handy!
View Topic : CSS-Me-Do - SoCoder2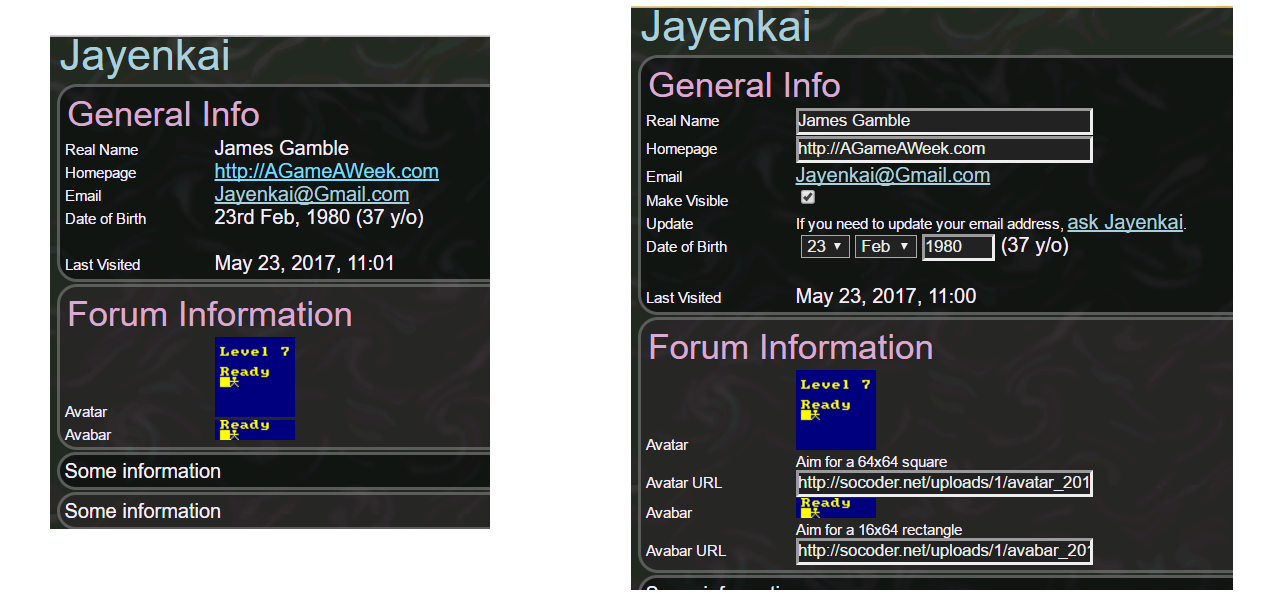 First bit of progress on the Profile Page..
Left = Not "you"
Right = Is "you"

Now to get the actual results to edit the database, before moving on and adding more details to the profile.
View Topic : Manchester Arena Explosion
Sounds like it was a bomber in the lobby. Seems to have happened as people had started to leave. In many ways it could've been much worse.
22 including children :/
Over 50 injured.

Don't think I'll be coding, today...
View Topic : CSS-Me-Do - SoCoder2
Looking into profiles, now.
(This may appear to be a bizarre leap of logic, but I spent most of the day working on Watched Topics, and it'd be nice to have an easy way to change those, all on one single settings page!!)

I'm wondering if we still need the GardenBar.
Does anyone use those little buttons? Or are they just taking up space?
Sure, it's handy to have Homepage, Email and PM buttons there, but ICQ/AOL/Wii/DS/PSP usernames, and more.. I feel like I might just plop them onto the "View Profile" page, instead..

Seriously, though, look at all those buttons under this post, and answer me this.. Do we REALLY need all that!?!
View Topic : Switch - Mini Dock
I'm not too keen on the mini-dock's lack of weight. I'd probably add something heft in the bottom to make it easier to life the Switch out, one-handed..
View Topic : Any Feature Requests?
More or less vaguely functional!
I'll add extra power (and probably more testing!) to the functionality at a later date, but .. Its in!!
View Topic : CSS-Me-Do - SoCoder2
Bloody 'ell, that took some doing. You should see the state of the "Topic of Advanced Testing"!!

Topic watching and email-alerts are now mostly functional.
I need to add a nice selection page where you can switch them off in bulk, but otherwise .. Working!

Of course, you'll only get the notification if the person uses Socoder2 to actually post the reply. I'm not clever enough to work magically from the old site, too!!
.. But it's working!!!
Older Posts
-=+=- -=+=- -=+=- -=+=- -=+=- -=+=- -=+=- -=+=- -=+=- -=+=- -=+=- -=+=- -=+=- -=+=- -=+=- -=+=- -=+=- -=+=- -=+=- -=+=- -=+=- -=+=- -=+=- -=+=- -=+=- -=+=- -=+=- -=+=- -=+=- -=+=- (c) WidthPadding Industries 1987

633|0

-=+=- -=+=- -=+=- -=+=- -=+=- -=+=- -=+=- -=+=- -=+=- -=+=- -=+=- -=+=- -=+=- -=+=- -=+=- -=+=- -=+=- -=+=- -=+=- -=+=- -=+=- -=+=- -=+=- -=+=- -=+=- -=+=- -=+=- -=+=- -=+=- -=+=-