Older Posts
View Topic : What Have You Done? - Feb 2017
Should've probably mentioned plans for next month, seeing that it's beginning tomorrow, eep!

So, yeah I'll be switching back to walking to work as it's getting warmer and I do kinda miss doing that each morning. Should save a bit of monies also.

I'll be re-visiting some old projects and getting some box-art and manuals completed also.

8-bit evolution seem pretty interested in a few games so I need to make the most of the month!

Onwards and upwards y'all!
View Topic : What Have You Done? - Feb 2017
I've been finishing this lil blighter off for the Gameboy Colour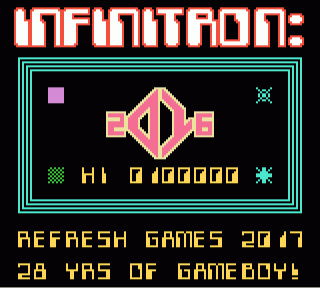 It's running fairly well now, and there's a whopping 5kb of code free! (I'm trying to keep under 32kb total)

Just the usual optimizations and tidying up to go through.
View Topic : Pokemon Go
Aaand the new 80 pokemon in pokemon go happened just at the same time I'll be walking to work again... Ha!
View Topic : AGameAWeek : 2017 - Part One
Cool, I was wandering about if you were checksumming things up



If you can do something cool like use a distinct encryption vector for each game, possibly based on the games title or another unique value then it will further reduce the ease of spamming.
View Topic : How Are You?
January sucked, I was ill and fairly messed up in my headspace. Things simply weren't going right in my head. But, february should be much better!
View Topic : The Political Thread
Roll on the armageddon train.

I really hope I'm wrong here but I can't see anything good happening globally unless you happen to be one certain Vladimir Putin.

I'd expect the EU to eventually be broken down into pieces shortly after a couple more countries leave one way or the other.

NATO to then be broken down also as a result.

With Europe in a state of disarray, I'd expect Putin to sweep in and claim more land.

It just seems like the world is going through a fairly "crazy" isolationist period, with the possibility of removing great swathes of the poor, weak and elderly whilst focuses go towards some form of War Effort.

As I said, I really hope I'm wrong here.
View Topic : What Have You Done - Jan 2017
Ups
What did you get done this Month?
Not much really, slow month

Did everything turn out as planned?
Nope, been down with the flu for a while but struggled through work this week adding a bunch of crazy things.


Downs
What didn't you get done?
Gameboy Games

Finishing em off

Yeah...

Why not?
Honestly, just had a bit of a "meh" month things are a little crazy in my headspace


Now
What are you working on right now?
Not much, still fairly drained after work tbh.


How's that going?
Ehhhhh


Next
What's the plan for the next Month?
Fix Me Do

Code Me Do

Walk Me Do
View Topic : Cheering Up
What cheers me up? Hugs. Hugs make everything better, 100%

Chatting with my kids, particularly my lil girl, she says the weirdest things for a 3 year old and is all good!

Finishing off making something. Anything really but mainly code as that's what I'm doing mainly nowadays.

If there's nowt else to do I'll snuggle up on the sofa watching some anime with some anime, yay!
Older Posts
-=+=- -=+=- -=+=- -=+=- -=+=- -=+=- -=+=- -=+=- -=+=- -=+=- -=+=- -=+=- -=+=- -=+=- -=+=- -=+=- -=+=- -=+=- -=+=- -=+=- -=+=- -=+=- -=+=- -=+=- -=+=- -=+=- -=+=- -=+=- -=+=- -=+=- (c) WidthPadding Industries 1987

662|0

-=+=- -=+=- -=+=- -=+=- -=+=- -=+=- -=+=- -=+=- -=+=- -=+=- -=+=- -=+=- -=+=- -=+=- -=+=- -=+=- -=+=- -=+=- -=+=- -=+=- -=+=- -=+=- -=+=- -=+=- -=+=- -=+=- -=+=- -=+=- -=+=- -=+=-